With this release JoomReporter is getting a cool new functionality. We have also made sure that the user experience is better than before and let admins have all the stats by look at the newly introduced dashboard. There are a few more additions to this.
Let's get into the details
Recommend Button
Report button gets a companion, Recommend button. Using which your users can recommend that particular content to someone just by adding an email id of the potential receiver. (You can turn of this functionality from backend)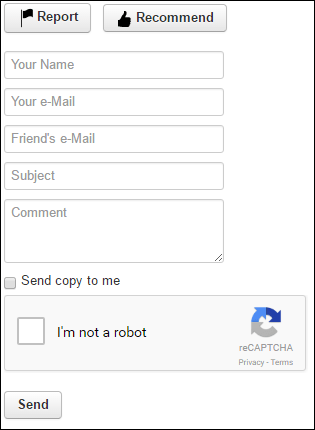 Introducing reCAPTCHA
We hate spam so much that we don't even want the bots to use our Recommend and Report forms. That is why we have introduced reCAPTCHA in it.
Amazing new Dashboard!
This cool dashboard has it all. Overview at a glance. It has all the information like
Total Reported and Recommended content.

Total number of reporters, guest reporters and registered reporters

Will show total count of Report and Recommendations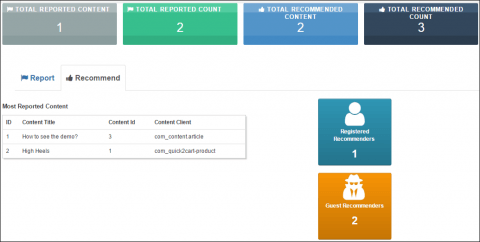 Email Notification
Send Email Notification to the Admin after content gets reported and recommended

Send email to the reporter once action is taken against the content reported by him (Note: This feature will as of now work with only content reported from Joomla Articles)
Reason of Report
You will be able to create categories for reason of report which will be shown in the drop down while reporting. (This feature can be used optional)
Segregated settings view
While developing this version we understood that there are too many configurations and we have to make sure that they are easy to understand and control from the backend. So we have made sure it happened by changing the setting view.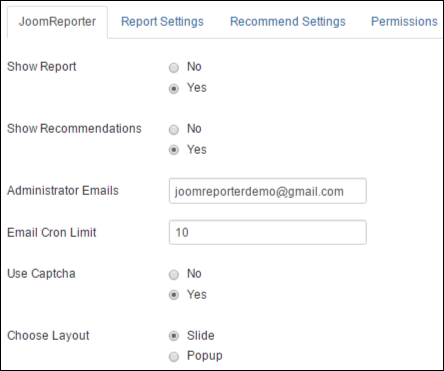 Other Improvements