All the business owners around the globe know how imperative it is to keep your customers and potential subscribers engaging constantly with updates and promotions for new as well as recurring business. A lot of ways through which this can be done. One of them is sending personal emails. However, this is very time consuming and a lengthy process. Sometimes all you need to do is just send a simple message and a link with it. This can be done in a much quicker and a responsive way by sending them Push Notifications.
Why Push Notifications?
Push Notifications have been successful in grabbing one's attention and that is exactly what we want, right? Getting Push Notifications on smartphones is quite common, how about getting it on your browser? All the notifications will be seen by the subscribed users when logged in. These push notifications can been seen on the web browsers on the smartphones as well. You should use Web Push Notifications increase customer acquisition.
How does this work?
There are plenty of service providers who provide this service of Push Notifications, some of them even do it for free. What is the process?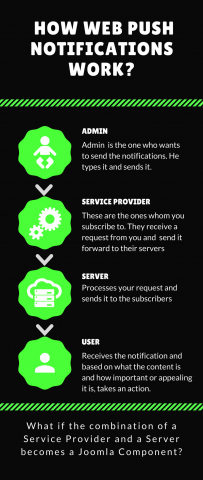 What JoomPush has to offer?
As shown above in the pictorial representation, JoomPush will be combining the Service Provider and the Server part into it and for that we have integrated Firebase Cloud Messaging by Google and compiled it into a component with a simple backend configuration
List of features JoomPush has
Only subscribed users will be getting the Push notifications.

Will work with Chrome and Mozilla Firefox

Unlimited Push Notifications can be sent

It can include Links and are clickable

Can set an Icon for Push Notifications

Facility to add title with the message text.

Works with all the sites having SSL certificate

Works on both Desktop and Smartphone browsers

Simple admin dashboard
JoomPush is currently in development and we might add more features before it is stable.
How about integrating this with some component you want and send automated Web Push Notifications. Have any such ideas? Feel free to comment on the blog or This email address is being protected from spambots. You need JavaScript enabled to view it.