We have always wanted to make the people aware about how easy it is to notify your viewers with Push Notifications compared to the traditional notification methods. Apart from marketing your product and service, Push notifications can also be used to keep yourself updated about your own online business process running in the background.

So we thought of implementing this use case by integrating JoomPush with one the most easy to use, featured packed and favourite e-commerce solution for Joomla, j2store! We partnered with the j2store team and made sure that all the j2store admins should be updated about the things happening on the site with Web Push Notifications.
New Stuff!
JoomPush for Admins & Default Admin group

On a popular demand we have introduced Web Push Notifications for Admins, once logged in from the Backend url and subscribed to the Notification Pop-up there, that subscriber will be automatically get added to the Default Admin group. Using which you will be able to send Notifications only to the Admins.
j2store Integration Features: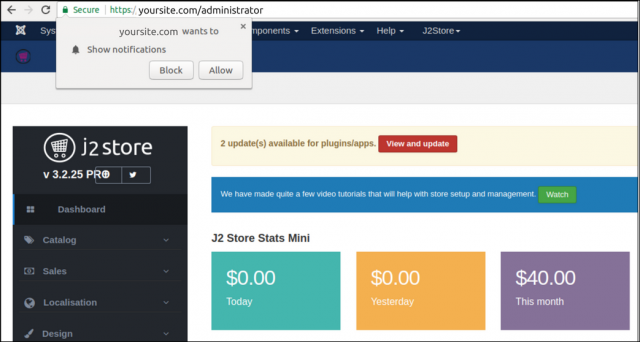 j2store Admins will receive Web Push Notifications on their Desktop and Smartphone browsers by subscribing to Notifications after logging into their backend on that particular browser. 
Admins will receive updates about:
New Order Placement

Order Confirmation
For starters these two instances will send the notifications, we plan to add more instances to this integration in the future. 
Easy Configurations in the plugin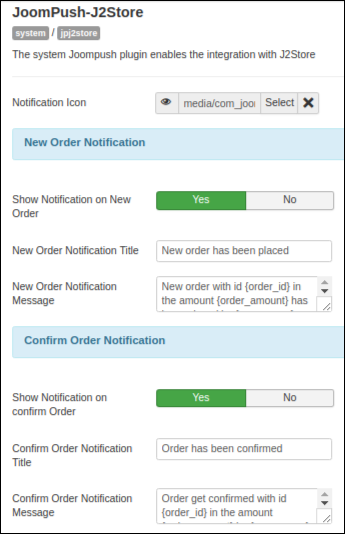 Customise the notifications the way you want it with Customisable Web Push Notification Icon, Title and Notification message for each instance. 
So what are you waiting for, start using JoomPush to keep your subscribers engaged and keep the admins updated.